Cynthia O'Connor, DVM, DACT - Board Certified Specialist in Veterinary Reproduction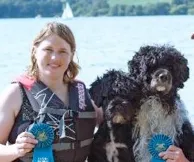 Dr. O'Connor grew up on the South Shore in Massachusetts, working throughout high school as a veterinary assistant. She obtained her Bachelor's Degree in Animal science at the University of New Hampshire and then attended veterinary school at the University of Wisconsin-Madison. Following veterinary school, she completed an internship in small animal medicine and surgery at the Animal Medical Center in NY and then joined a private practice in MA. After working as an emergency clinician and general practitioner for several years, she elected to pursue specialty training in the area of veterinary medical genetics, pediatrics, and small animal reproduction at the University of Pennsylvania's School of Veterinary Medicine. During her residency, she worked with several researchers and nationally funded research projects designed to further investigate the cause as well as therapeutic interventions for genetic diseases in dogs, cats, and humans. Following her residency, she became a board certified specialist in veterinary reproduction as a member of the American College of Theriogenologists where she continues to pursue one of her passions to assist with expanding knowledge as a lecturer on these topics at both national and international conferences as well as in veterinary student courses. Her professional interests include preventative wellness care, general medicine and surgery, ultrasonography, assisted reproductive therapies, pediatrics, and genetic counseling.
In addition to her professional interests, Dr. O'Connor has been breeding and exhibiting Portuguese water dogs for over 20 years and is an active member of the Portuguese Water Dog Club of America. She also serves on the Board of Directors of the Portuguese Water Dog Foundation and draws on both her personal and professional experiences in an effort to contribute to the Foundation's outstanding desire to further research with the goal of improving the quality of life and health of Portuguese water dogs. She shares her home with her dogs, Fenway, Boston, Rebel, Rookie, Reese, and Devy.
Professional Affiliations:
American Veterinary Medical Association member
Massachusetts Veterinary Medical Association member
American College of Theriogenology and Society of Theriogenology member
American College of Theriogenology Credentialing Committee member
Board of Directors and Grant Director of the Portuguese Water Dog Foundation