Pregnancy can be determined by abdominal ultrasound, blood relaxin testing, abdominal palpation, and abdominal x-ray. Abdominal palpation is best performed between days 28-32 of pregnancy. It can not determine number or viability of the puppies and is not the most accurate method of pregnancy diagnosis as both false positive and false negative results can occur.
A blood relaxin test can be performed after day 28 of pregnancy. This method can not give a puppy count and false positives can occur if there is loss of puppies since viability of the puppies can not be determined with this method of pregnancy diagnosis.
Abdominal ultrasound to confirm the pregnancy is generally performed at approximately day 28, but can detect puppies as early as day 21 of pregnancy. This is the earliest and one of the most accurate methods to determine pregnancy. A very rough estimate of puppy numbers can be given, but is not nearly as accurate as a late term x-ray. This method is ideal for monitoring the proper development of the puppies and health of the developing litter. Serial ultrasound monitoring is used in high risk pregnancy cases. Ultrasound is also an important tool for calculating gestational aging and for planning C-section timing.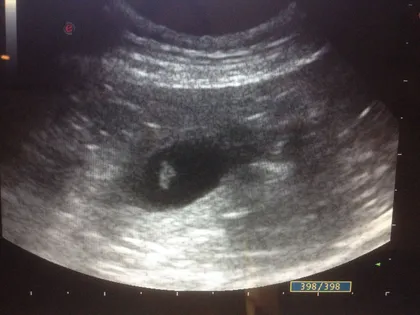 An abdominal radiograph (x-ray) is done after Day 52 for the most accurate method to obtain a puppy count. State of the art digital x-ray equipment at East Bridgewater Veterinary Hospital allows us to obtain this very important information quickly and accurately with minimal x-ray exposure.